Installation on Windows 8.1
Microsoft have integrated the SmartScreen filter in Windows 8 to protect against malicious software or programs - especially those downloaded from the Internet. Unfortunately, when enabled, it can make it very difficult for users to install legitimate applications.
If you're encountering any SmartScreen or User Account Control restrictions when attempting to install MusicWorks, please try the following:
Firstly, ensure you're using the Desktop interface. If you're seeing the tiled 'modern' interface, click on the 'Desktop' tile to go to your classic Windows Desktop.
Assuming you're using Internet Explorer as your web browser, click on the MusicWorks 4 download link from the tierramedia web site and run it immediately by clicking on 'Run'.

Next click on 'More info'.

Then click on 'Run anyway'.

If you also receive the User Account Control message, click on 'Yes' to allow the installation to start.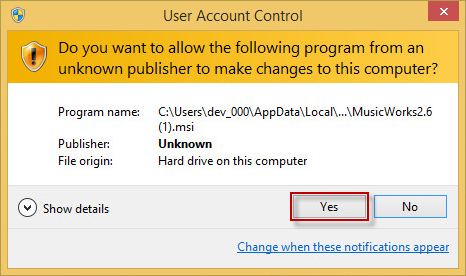 The installation should now complete normally.