System Requirements
For MusicWorks 4 to install and operate correctly, your system must meet the following minimum system requirements:
Intel® Pentium® 4 or AMD Athlon® 64 processor (1.5 GHz or faster)
Microsoft® Windows® Vista, 7, 8.x Pro
1 GB of RAM
20 MB of available hard-disk space
Additional hard-disk space for storing compositions
1024 x 768 display
Features

When we created MusicWorks, we felt that working directly with your notation was important for creating amazing compositions. As you work with MusicWorks, you'll see that the layout is very fluid. Pretty much every part of the score can be dragged around, resized, cut, copied, pasted, tweaked and transposed. You really don't have to worry too much about the layout of your music, as you can change the page size at any time and MusicWorks will take care of 'reflowing' everything to fit nicely on the page. You can stretch out or compress measures if you want and change the stave size from tiny to huge to suit any type of reader.
The best way to find out what MusicWorks can do is to try out the beta version. You can get it from the downloads page - but in the meantime, here are just a few of the key features to give you a brief overview of how it all works.
Easy music editing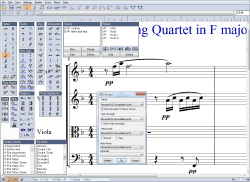 Creating compositions with MusicWorks is a breeze. There are a bunch of ways to create your masterpiece. You can record a song from a connected MIDI device either in real-time or by playing a note at a time. You can import an existing MIDI file, modify it and add your own notation, or you can just start with a blank sheet and build your composition by simply selecting the musical objects from a huge range of palettes. You can even add your own symbols if you need something special.
Multi-part compositions
MusicWorks lets you build compositions from a simple solo part right up to comprehensive ensemble scores for bands and orchestras. You can easily rearrange staves at any time and select whether each stave can be edited, played, displayed or printed.
Full colour printing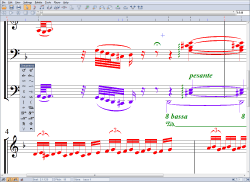 Adding colour to your composition can be a big plus, especially when teaching music. You can use colour to separate different voices or to indicate fingering or just to produce something a bit special. The stave size can also be varied so you can make poster sized prints for the classroom wall if you need to.
MIDI playback and recording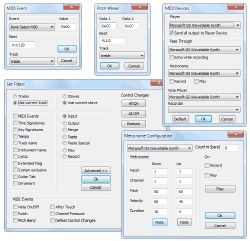 Connect a MIDI device to your computer and you open up even more options for creating and playing your compositions. You can record in real-time or step-time and re-record just the parts of your performance that weren't quite right. You can record as many tracks as you like to build complex arrangements and change the properties or tracks at any time. MIDI events can also be recorded, created and edited to really get the most out of your connected devices.
Automated notation tools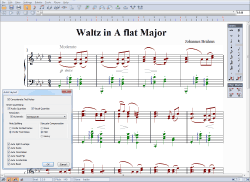 MusicWorks gives you plenty of help when it comes to getting your creation to look just right - and also to make sure that it obeys the rules of music notation. Notes can be automatically flipped, split, joined, tied and beamed. You can even 'visually' quantise the notation while retaining the natural, expressive quality of the underlying music (so it'll still sound great when it's played back!). These tools are especially useful when you're working with music that's been recorded from a MIDI device.
Transposing and other goodies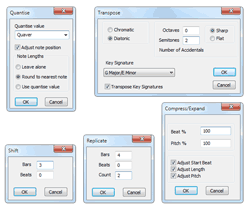 When you need to produce arrangements for a variety of instruments, selected notes can be moved or copied to new tracks and staves. The note pitch can be transposed, the duration quantised, and the timing can be shifted, compressed or expanded. You can insert blank measures, replicate parts of the music and even create crescendos and decrescendos. MusicWorks gives you the tools to unleash your creative flair.
Text and lyrics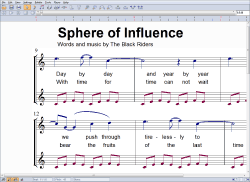 To put the finishing touches on your masterpiece, MusicWorks lets you add text for titles, page numbering and general annotations as well as lyrics, and because all of the fonts and symbology used in MusicWorks is vector-based, your prints will look amazing no matter what size you print them.